Baroque Keyboard Masterpieces
Fingered with Baroque Technique, eBook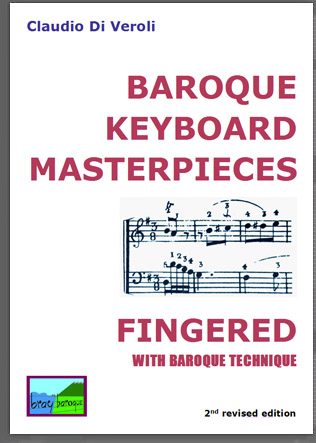 This is a comprehensive set of Baroque keyboard pieces, fully fingered according to the principles expounded in the book Baroque Keyboard Fingerings: A Method , a full reconstruction of the very consistent and largely unified mid-to-late Baroque fingering system.
The scores included in the present edition range from easy to advanced, and cover most of the technical difficulties and tonalities found in the Baroque repertoire, especially when playing scales and/or ornaments.
A 13-page introductory text provides full details on this edition and on each piece, with suggestions for performance.
This publication is meant for players of all early-model keyboards: harpsichords, virginals, clavichords and organs. A few pieces are specific for the harpsichord. A piece for organ with pedals is also included.
Foreign keywords: barocco, barroco, digitaciones barrocas, diteggiature barocche, libro, boxall, clavicordio, clavicordo, early music, música antigua, digitación, diteggiatura, fortepiano, french, fretted, trasteado, clave, clavicembalo, cembalo, clavecin, old fingerings, digitaciones antiguas, diteggiature antiche, órgano, organo, espineta, spinetta, virginale