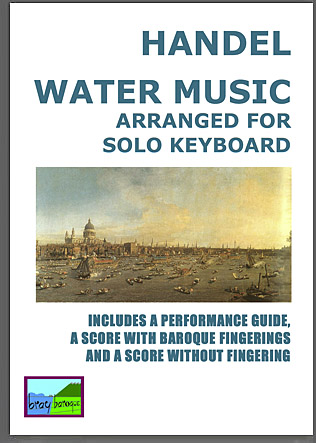 More than three centuries have elapsed since this masterwork of baroque instrumental music was first performed during a royal boat trip on the River Thames in London, in July 1717.
This edition reproduces faithfully—as much as it is possible on a keyboard—the Water Music as conceived by Handel and transmitted in the extant orchestral manuscripts.
A 35-page introductory essay covers everything the player needs to know about the editorial method, Baroque fingerings, tuning, and suggestions for interpretation. The latter include ornaments, notes inégales, hemiolas, rubato, articulation, and registration for the harpsichord, as well as dynamics for the modern piano. Some of the pieces include an alternative score for the organ with a pedalboard.
The eBook is sold by Payhip at €8.50 or its equivalent in other currencies.


Foreign keywords: barroco, barocco, clave, clavicembalo, cembalo, digitaciones antiguas, diteggiature antiche, digitaciones barrocas, Handel, Hændel, Händel, keyboard, teclado, keyboard arrangement, transcripción, digitación, diteggiatura, organ, organo, ebook, e-book, eBook, libro, water music, musica acuatica