Baroque Keyboard Fingering: A Method, eBook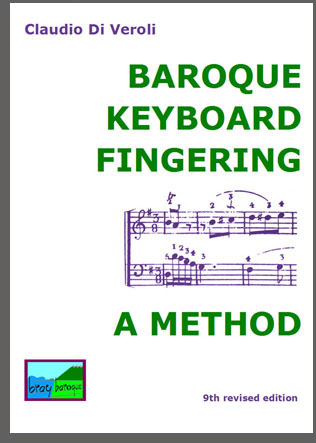 This is a traditional-fingering method for students and performers of Baroque keyboards.
Scales and other passages are resolved with 54 fingering Rules based on original fingerings from Baroque era sources.
Old-style fingerings are also suggested by the author for many difficult passages in the Baroque keyboard repertoire.
After the first version of 1983, enhanced versions of this Method have received very favourable comments, including an endorsement by the late Igor Kipnis.
This 8th revised edition, published in October 2020, is based on decades of studies and practical use in public recitals, and is as always the most comprehensive work in the field, with 176 fingered passages and a bibliography of sources.
This eBook is sold by Payhip at €9.90 or its equivalent in other currencies.


Bray Baroque has also published the following companion of this eBook:

Baroque Keyboard Masterpieces Fingered with Baroque Technique
A comprehensive set of Baroque keyboard pieces, fully fingered according to the principles expounded in the book Baroque Keyboard Fingerings: A Method. The scores range from easy to advanced and cover most of the technical difficulties and tonalities found in the Baroque repertoire.

Also available from Bray Baroque are editions of Baroque keyboard works by different composers, with Baroque fingerings and a performance guide: please find a full list in the Bray Baroque books page.


Foreign keywords: barroco, barocco, digitaciones barrocas, diteggiature barocche, libro, clavichord, clavicordio, clavicordo, digitación, diteggiatura, clave, clavicembalo, cembalo, digitaciones antiguas, diteggiature antiche, partite, espineta, spinetta, virginale, ebook, e-book, eBook